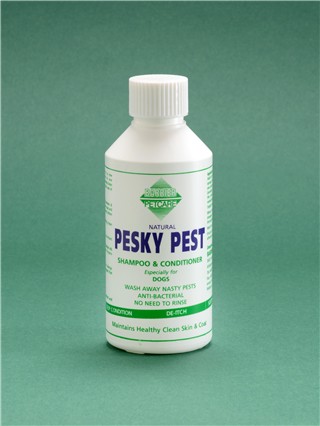 Pesky Pest Shampoo & Conditioner for Dogs
An easy to use is a low lathering two in one shampoo & conditioner designed to effectively clean and wash away nasties without stripping the coat of natural oils. Stops the need to scratch and helps to soothe and calm irritated and bitten areas.
Endorsements: PROS: "It smells very fresh and stopped my dog scratching straightaway - she suffers from dry, itchy skin. This kept her skin and coat in great condition and it didn't need to be rinsed off, which was great! Amazing value for money."
CONS: "None."
BUY IF... your dog has dry, itchy skin to keep him in great condition all year round.
Horse & Rider Magazine Tester

"I used the Pesky Pest Wash on my horses and Pesky Pest Shampoo & Conditioner on my dogs and must say I was very impressed. My horse's coat looked silky and shiny with a fresh scent, and my Alaskan Malamute-cross - who suffers from dry, itchy skin - was better after one wash. It was an absolute godsend, as it helps to calm and soothe irritated skin while maintaining healthy skin, hair and coat."
Horse & Rider Magazine Tester.


Storage: Store in a cool dry place out of direct sunlight.
Suppliers: Available from major saddlers, pet shops, agricultrural merchants and many on-line sites. Alternatively, your local/nearest stockist will usually order it in for you if you ask.
Available Pack Size: 250ml
To seach for your local stockist of Barrier Animal Healthcare products just enter your county and click search.